Asphalt Striping & Sealcoating Services – Arlington
Striping and Sealcoating for Texas
Midway Sealcoating and Striping concentrates on high-quality, commercial asphalt striping and sealcoating. We work across the state of Texas, including the Arlington, Fort Worth, and Dallas area.
Asphalt Striping & Sealcoating Services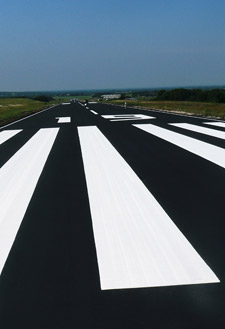 We Have Experience in the Commercial & State Arenas
Asphalt Sealcoating – Low & High Sandloadings Available

Crack Filling – Hot Rubber & Rubberized Emulsions Available

Asphalt Striping – New Layouts, Re-Striping: Both Rubber Based and Acrylic Latex Traffic Paints
Why Use Quality Blacktop Sealer?
Reduces Maintenance Cost
The smooth, even surface of sealed pavement makes sweeping, snow removal, and maintenance simpler and cheaper.

Beautifies Pavement
Attractive, slate-black appearance restores original color to asphalt and dries to an even-textured finish.

Prevents Oxidation
The sun's actinic rays harden and dry out the asphalt surface. This accelerates raveling, erosion, and can reduce asphalt thickness by as much as half in just 5 years.

Prevents Gas, Oil, and Salt Damage
Only coal tar sealer protects asphalt against the highly damaging effects of gas and oil seepage and all other road chemicals, especially aikalis and winter salt.
Please be sure to visit our
Asphalt Striping Gallery
to see our quality work come alive. If you find a service you need, don't hesitate to
Contact Midway Sealcoating & Striping
. Looking for expert sealcoating and asphalt striping services? Look no further. Please call us at
817.467.7003
or fax your requests to
817.465.1665
to reach a member of our team.
Our coverage area spans throughout Eastern Texas. Including, but not limited to, Arlington, Dallas, Fort Worth, Grapevine, Irving, Grand Prairie & Euless.